Posts Tagged 'drizzt'
1 item.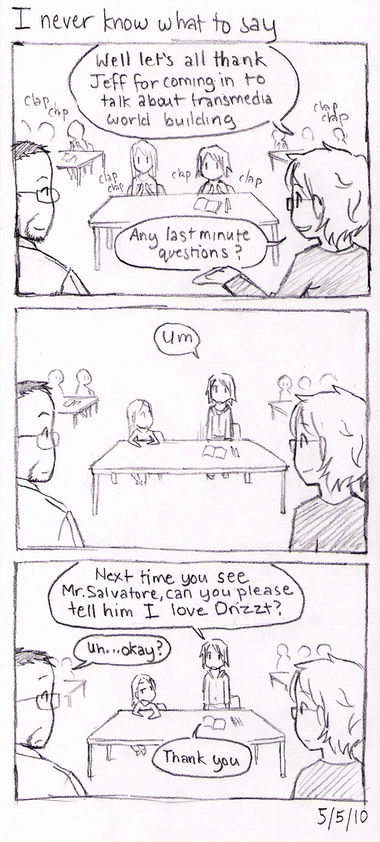 This comic features my attempt at depicting Wanda and Jeff. Apologies!
Edit: I just realized this comic might warrant some explanation. R.A. Salvatore (the author who had to kill Chewbacca) is a well-known Forgotten Realms writer. He wrote the Icewind Dale Trilogy, which featured this awesome dark elf (Drow) character named Drizzt who became hugely popular. Salvatore then wrote the Dark Elf Trilogy, which is pretty much about Drizzt's life in the Underdark before he comes to the surface world (it's a prequel series). Anyway, the Dark Elf trilogy are the only Forgotten Realms books I've read. But Drizzt is cool in them, so I like him a lot!
Edit2: Shameless plug! Check out my D&D sketches depicting moments from the campaign I play

This Tuesday, this guy named Jeff Grubb appeared as a guest speaker for the class I'm taking on popular culture and transmedia worlds. Among other things, he helped formulate the Dragonlance and Forgotten Realms Dungeons & Dragons settings — my mind was first blown because that meant I was in the same room breathing the same air as the guy who pretty much came up with the world my D&D campaign is set in, and second because that means I'm 2 degrees of separation away from R.A. Salvatore, which I guess technically means I'm 3 degrees of separation away from Drizzt Do'Urden!
So what if Drizzt's fictional? Whatever!
Okay, so fangirling aside, Jeff talked about a lot of really interesting things and provided some nice insight on the properties of a successful world and the experience of working on these worlds that are ever-expanding. There were three major things that stuck in my mind: